Get Ready to Surf in Valencia !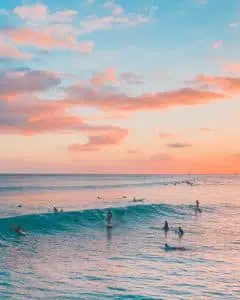 In addition to the splendid beaches and clear water, Valencia also offers a 500 km long coastline which offers excellent waves for surf. The waves of Valencia beach is one of Europes most loved locations by locals as much as tourists. Whether you have never surfed before, or are a veteran you will definitly love the waves of Valencia beach.
Moreover, there are various surf schools and surf stores, as well as those just outside the city. Go get your gear and go hit the waves. What an incredible sensation it is to be in the ocean with your surfboard. The best feeling in the world is being in the water and being one with nature when surfing. The ocean's power is incredible, and it gives you chills every time you catch a wave. And all you want to do after your first (or hundredth) ride is hit the waves again!
Surfing the waves of Valencia beach can be done all year round (Depending on the weather and ocean conditions)
You will find consistent surf wave conditions in the region
Best way to explore the beautiful coast while staying fit and getting a tan
Several locations to rent surf gear (surfboards, wetsuit, etc.)
Plent of surf schools for lessons
Surfing Within Valencia
Beach de las Arenas (Playa de las Arenas)
Playa de la Patacona
Playa de la Malvarrosa
Surfing Around Valencia
Playa Puerto Segunto
Culler/Jucar
Playa Recati
Platja de la Pobla de Fernals
More Info:
Surf Spots in and Around Valencia
Expert Guide Surfing in Valencia
Have Fun Hitting the Waves!