FAQs Auberge Purple Nest
Posées sur les réservations, les annulations, etc.
Do you have availability for today?
You can check our last minute prices, availability, distribution, book and SAVE UP TO 10% on the next link BOOK NOW.
If you are looking to book for a group of more than 10 people, then our groups department can help you.
Please email groups@feetuphostels.com or visit our dedicated group booking section.
I wanted to confirm my reservation.
The details and confirmation of your booking are in the email sent to you at the time of booking.

IMPORTANT.
If you have booked through an « UNOFFICIAL » channel (Booking, HostelWorld, Tripadvisor, Hotels, etc.) you must contact the channel.
I want to modify or cancel my booking
To modify or cancel your booking you can do so through the link sent to your email at the time of booking. You can also visit this link to modify your booking.

IMPORTANT.
If you have booked through an « UNOFFICIAL » channel (Booking, HostelWorld, Tripadvisor, Hotels, etc.) you must contact the channel.
Can I book a single bed?
Yes, if you can book a single bed, just check our availability, book and SAVE UP TO 10% on the next link BOOK NOW. THE BEST PRICE GUARANTEE.
I am looking for a room for couples.
You can check our rooms for couples' prices, availability, book and SAVE UP TO 10% on the next link BOOK NOW.
What is the location of the lodge?
Are there shared bathrooms?
Yes, our bathrooms are shared, but we also have rooms with private bathrooms if you are looking for privacy.
Is there a shared kitchen?
Yes, our kitchen is shared for cooking and making friends!
Is there a 24-hour reception?
Yes, our reception is open 24 hours a day to help you!
Is luggage storage available?
Yes, we have luggage lockers to help you.
Are pets allowed?
No, we are sorry but we do not accept pets.
What is the cancellation policy?
Non refundable rate: The total amount will be charged at the time of the reservation. It won't be refounded under any circunstances.
* Free cancellation / Standard rate: You can cancel without any charges up to 48h prior to arrival.
No show: In case of no show or late cancellation, the amount of the first night will be charged.
* In all the cases, the amount would be charged in the currency of your country.
Do you accept groups?
Groups of up to 10 people can reserve directly online.
For larger groups, please email us directly at groups@feetuphostels.com. Our staff will reply as soon as possible.
Too visit group booking section.
Where can I leave my bike?
In the hostel we have a private guarded area where you can put your bikes. The area is not covered, so in the winter/autumn months it is advisable to bring a bike cover.
Do I need to book ahead of time or can I just show up?
We recommend reserving ahead of time whenever possible. Accommodation in high season in Valencia can fill up unexpectedly due to various events.
About the reservation system
Our reservation system is provided by Nest Hostels. Valid credit card details are required to book online. Secure online reservations can be made through our website with valid credit card information including the credit card number, date of expiry, and the credit card owner's name. On the main page, click bookings & availability.
I am a travel agent & am interested in working with you.
We welcome the opportunity to collaborate with you. You can email us directly through our web site for further information.
Do you speak English?
All of our staff speaks English and will be more than happy to help you out with any questions you might have.
How do I get there?
Maps and directions are available by going to our MAPS & DIRECTIONS section.
What time is checkin / checkout and our services?
Check-out at the Purple Nest Hostel is at 11h00.
We reserve the right to charge up to the full amount of an extra night for late check outs.
You can leave your bags for the day in our free luggage storage.
Rooms for new arrivals are generally available after 15h00; if you arrive before your room is ready, you may check in at the front desk from 08h00 onwards and leave your luggage in our luggage room.
Check-in before 08h00 wont be able to get into the Hostel.
Those with a late flight arrival need no concern, as reception is open 24h, arrivals after 24h00 will have to leave their passports with the night porter and pick it up in the morning.
Is there a lockout or curfew?
No, our reception is open 24 hours a day, there is no curfew. There is no lock-out during the day.
Is there a (free) parking place near the hostel?
There is no free parking but there is a street next to the hostel called Paseo de la Alameda where you can always park for free.
Are there any extra costs I should know about?
At check in we ask 5 euro deposit for the key we return at check out. The deposit is also required for towels and padlocks. The deposit is retained only if the items in question are lost or damaged. For more information send an email to purplenest@feetuphostels.com
I am from outside the European Community, can I stay in your hostel without a passport?
No, due to the regulations of the Spanish police, it is compulsory to have the original passport for the transfer of data and the verification of personal details.
What is the cost of one night?
Prices vary according to the type of accommodation desired and the season .
When making the reservation on our web site you will be automatically given our best price for the requested date.
I am looking for a job Do you volunteer?
Hello, we have a « Work and Travel » system.
Visit our website https://feetuphostels.com/work-with-us/ or send an email to work@feetuphostels.com
Good luck to you.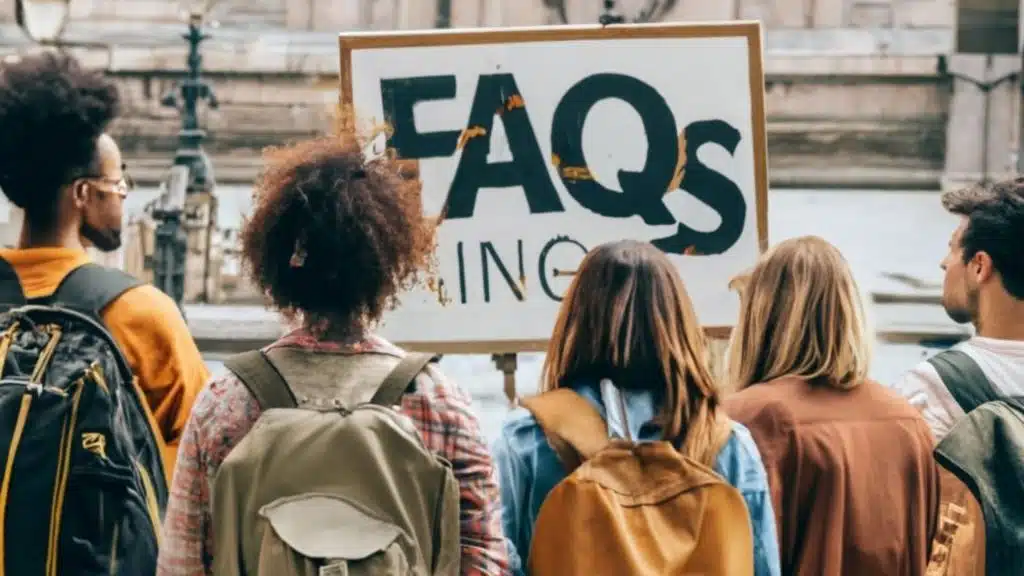 As-tu encore des questions ?
Si tu as encore des questions, tu peux nous envoyer un message via nos réseaux sociaux.